While it is hard to imagine of a time more terrifying than last March and April of 2020 when seemingly everything around us was being closed as COVID-19 was reaching this region of the United States, there are historical precedents, as with the flu outbreak of 1918. The epidemic, also known as the Spanish Flu, took the lives of at least 50 million worldwide over the stretch of several years. Yet how did this affect the state of Kansas?
The pandemic is agreed to have started in March of 1918 in Camp Funston, Kansas, and spread rapidly as the United States moved Expeditionary Forces off to Europe for the Great War. From there, the virus spread through the trenches eventually reached neutral Spain.
A resurgence wave started in the fall of 1918 when troop movements spread the disease along the East Coast and eventually through the rest of the United States, the Caribbean, and South America.
Regional newspapers reported news from Washington D.C. about the spread of Influenza across army camps. In Hays, certain debate existed as to the number of sick members of the community. Neither city schools, movies, nor the fair had been closed in early October. However, by late October the distribution of the evening newspaper at the depot was discontinued as Kansas officials instituted closing orders across the state. At Fort Hays Military Camp and for the Students Army Training Corps at the Fort Hays Normal School, Captain Dennis Delaney set soldier's curfew at 5 o'clock. October continued with a state-wide closing order, prohibiting all public gatherings of more than twenty-five people.
In response to the growing risk, Hays officials set up an Emergency Hospital. County commissioners and the Chamber of Commerce decided to use set up City Hall with cots, bed clothing and anything that could be used in a sickroom. Women were taught a Red Cross course in elementary hygiene under supervision of Mrs. P.C. Anders and Miss Mary Stewards, both graduate nurses. In Garden City, the Garden City Telegraph called out for any woman to come register as volunteers regardless or previous experience. Masks and handkerchiefs were furnished by the Red Cross and encouraged.
Red Cross guided readers in detecting influenza symptoms. Sudden onset started with a sore throat and included prostration, high temperatures, headaches, coryza, cough, body pains, and evolved into lung complications.
In 2020, people in Kansas watched with dismay as the daily cases of infections and confirmed deaths mounted, and the availability of essentials started to run short at local grocery stores or online. In southwest Kansas, the residents of Dodge City, Garden City, and Liberal were especially hard hit, as the region is home to thousands of meatpacking workers deemed essential during the outbreak. Now, considered part of the Phase II role out, many workers are getting the vaccine they need.
But back in 1918 there was no vaccine for influenza (and it would not come until 1938) and those that survived endured weakness that lingered for up to three weeks. Like COVID-19, precautions warned that influenza spread by contact (sneezing, coughing, and spitting), so avoiding crows such as movie theaters or dance halls was discouraged. For influenza, other recommendations included keeping the bedroom with fresh air and patients to drink plenty of water, and have their own drinking cups, utensils, and towels. Remedies included the use of Bulgarian Blood Tea, Cascara Bromide Quinine, or Vick's VapoRub.
In a series of two articles, the article highlighting Vick's VapoRub explained how when applied over the throat and chest, the vapors loosen the phlegm and opened the air passages to stimulate the mucous membranes to throw off the germs. Demand grew as one say saw an order of 932,459 jars.
Great loss came to families as loved ones passed away near and far from the community. Fern Alice Reemsnyder, a young lady of twenty-three years born in Hays and a graduate of Fort Hays State Normal School in 1917, died in November of 1918 while training at the Christian Church Hospital. In Garden City, Miss Mary A. Knox, nurse from Topeka, passed away while nursing patients. Fear of death also lead others to act preemptively. Most notably, Mrs. Hulda Porter from Wichita, administered poison to herself and two granddaughters ages 5 and 7.
Outside of the uncertainty that a new virus brings, one of the main concerns of the 1918 outbreak was its virulent nature among younger patients, eventually taking upward of 650,000 lives in the United States. By comparison, COVID-19 as taken over 550,000 as of the end of March 2021, with most of the deaths occurring among older individuals above the age of 65.
Girl clerks at work with masks tied about their faces during the 1918 Influenza Epidemic. Source: National Archives Catalog https://catalog.archives.gov/id/45499337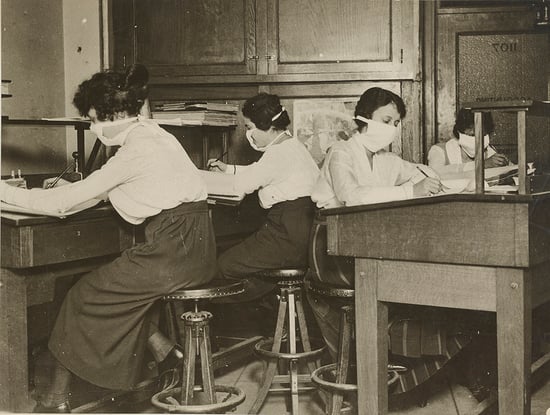 Marco A. Macias
Marco A. Macias holds a Ph.D. from the University of Arizona and a dual Master in Public Administration and Latin American Studies from the same institution. He is a cultural historian and his topics of study include Pancho Villa, the borderlands, and more recently smell in the social imagination.