One successful internship completed by a Fort Hays State University student two years ago has opened doors for internships and summer jobs for fellow students.
Cordell Waggoner – who graduated with a bachelor's degree in tourism and hospitality management in May – successfully sought out a position at Vermejo: A Ted Turner Reserve in 2019. The reserve is a luxury resort in Vermejo, New Mexico.
Management at Vermejo was so impressed with Waggoner's work ethic that they hired him back for two more summers. Vermejo even started an internship program in which other FHSU students are now taking advantage.
Now in his third year at Vermejo, Waggoner is one of four Tigers working this summer at the resort called the jewel of Northern New Mexico. The luxury vacation resort of 550,000 acres features almost 20 fishable lakes, holistic spa services, dining, and photography, as well as leisure activities such as horseback riding, archery, fitness, and frisbee golf.
Three other FHSU current and former students have joined Waggoner at Vermejo this summer.
Haley Reiter, a senior from Ellis, works in the reservations department, while Alex Brown (May 2020 graduate from Solomon) and Sabrina Sales (senior from Pueblo, Colo.) are guest service agents.
Waggoner, who helped the FHSU shotgun team win four national championships during his career, is working as the lead shooting instructor at the resort.
Waggoner, who grew up in southwestern Kansas, came to FHSU to compete for the university's renowned shotgun team. He worked at a lodge in Missouri for his first internship – a requirement for the tourism and hospitality management degree – after his sophomore year.
The following summer, he explored more opportunities to learn about the tourism and hospitality industry and found Vermejo.
The dream resort job for Waggoner, an individual national champion last spring for the Tigers' shotgun team, was to work with guests in the shooting areas. Because of his positive experience at Vermejo, Waggoner convinced Reiter to give it a try last year.
Reiter has known since she was a youngster she wanted to be involved in some service-oriented industry. After working at the resort during a short season because of COVID-19, Reiter knew she wanted to return for another year.
"I had found my niche in the tourism and hospitality industry, but I didn't know what segment of it I was most interested in," she said. "Working at Vermejo, especially this summer has just convinced me I want to be involved in eco-tourism," Reiter said.
After a year of experience as a guest service agent last year, Reiter landed a position in reservations this summer. She works with guests about two months out, coordinating their itineraries and helping plan their stay at Vermejo.
"My ultimate goal is to be a general manager of a hospitality property someday," Reiter said. "This is the perfect experience."
Like Reiter, Waggoner said he learned a lot about the industry while waiting for an opening in shooting instruction at Vermejo. During his first year, he was a trails worker, and last year, he helped with guiding shooting events and nature and ranch tours before taking over as the lead shooting instructor this year.
"I'm always interested in meeting new people, and this is a great opportunity for that," Waggoner said. "Being able to talk to the guests and give them a good experience is really rewarding."
Waggoner is set to try something new and is enrolled in an electrical lineworker program at Western Colorado Community College in Grand Junction.
He is certain his experiences in tourism and hospitality will be invaluable in many areas of his career.
"You can apply what you learn in tourism and hospitality management in anything that you do, and Fort Hays State's program is the best there is," he said. "This program – and all the different experience it offers – helps students learn how to interact with people and be open and friendly, and then they can always be trained to do another skill."
Dr. Stacey Smith, chair of applied business studies at FHSU and director of tourism and hospitality management, agreed wholeheartedly.
"Tourism and hospitality management is a very applied industry, and growing and working in the professional environment is essential," Smith said. "Students are more marketable walking out of school with industry experience, and internships grow their professional network before graduation."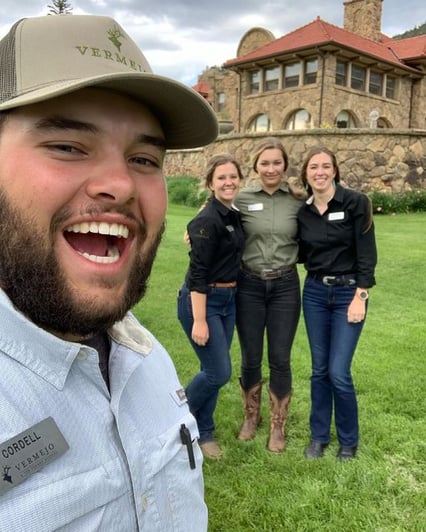 Pictured from left to right: Cordell Waggoner, Alexandra Brown, Haley Reiter, and Sabrina Sales

Diane Gasper-O'Brien
I am a content specialist at FHSU, and storytelling is part of my DNA. Those close to me say I was born talking and that I haven't stopped since! Writing began at a young age for me, and my entire professional career has been spent putting words down on paper. My passion for telling stories has taken me many places over the years, and some of my most memorable moments have been covering Tiger Nation. I am a Tiger through and through. My entire family – my husband, our two sons, and I – all attended FHSU, and we will soon have four degrees in the family when our youngest completes his MBA. I am honored to spread the great news of Fort Hays State by telling the stories of our Tiger family – students, faculty, staff, alumni, and friends of the university. God bless, and go Tigers!