Over the last decade, in-demand careers in digital marketing have expanded, and the job outlook is set to increase 10% by 2026, according to the Online Marketing Institute. Students like Trinity Wagner are poised to enter the workforce experienced and ready for lucrative careers in diverse industries to put their creativity and knowledge to work.
Trinity, a junior from Glen Elder, is majoring in marketing, and she just completed an internship with the Concordia Chamber of Commerce. She developed digital content, expanded, and enhanced the chamber's website, learned about office management and customer service, and learned about the critical role of the Chamber of Commerce to local businesses and communities.
"This internship helped me develop my soft skills by achieving more knowledge about business but on another level.," said Trinity. "I grew professionally in my career through the internship by constantly being surrounded by business leaders in the community. My confidence has improved too, which was one of my goals this year."
Trinity and Bergmann were able to sit down together and discuss the chamber's and Trinity's personal goals for the internship. It turned out to be a perfect match as she aspired to expand her videography portfolio and web design skills. The project turned out to be a two-in-one advertising bonus for many chamber members as the video featured promoted both their local businesses and the value of the chamber in the community.
"Overall, this internship exceeded my expectations, and the credit is all due to my boss, Annie Bergmann.," said Trinity. "She went above and beyond to teach me about business leadership and life lessons. And, she allowed me to take off with my creative flow and gave me feedback as I proceeded."
During her internship, Trinity modernized the look of the chamber website, improved the navigation, developed a member directory system, showcased popular events, integrated a blog for future use, and added eye-catching video content. All skills she has been growing during her pursuit of a bachelor's in marketing. You can view the updated website at concordiakansaschamber.com.
The Robbins College of Business and Entrepreneurship at FHSU provides its students with opportunities to build both soft skills and knowledge alongside technical skills that students can put to work in business. Students pursuing a bachelor of business administration in marketing complete coursework in advertising, public relations, professional speaking, entrepreneurship, leadership, program management, policy, and strategy.
"Fort Hays State University has a phenomenal marketing program.," said Trinity. "Coupled with my education was the work study opportunity FHSU provided me. I had one year's worth of digital marketing experience prior to applying for the internship, which really enhanced my credibility as a marketing major. I really want to thank the university for this opportunity."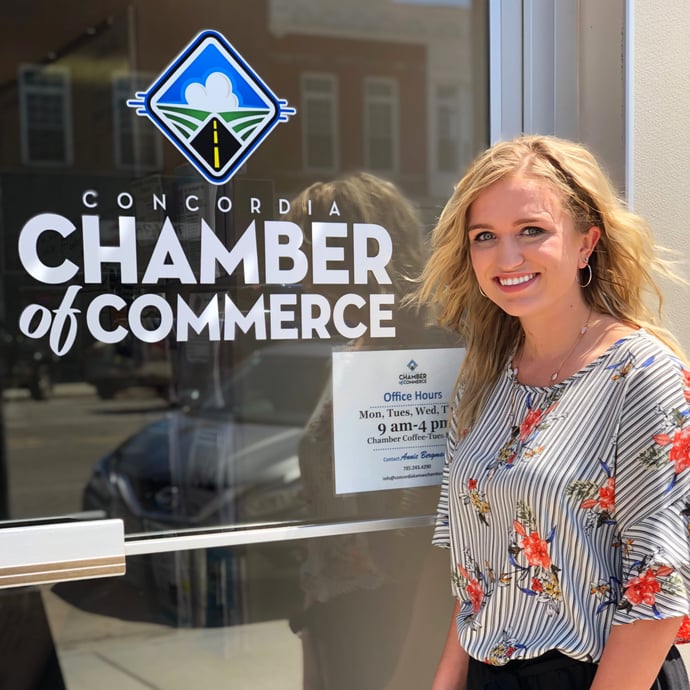 Trinity Wagner - Concordia Chamber of Commerce Intern
About the Robbins College of Business and Entrepreneurship
The W.R. and Yvonne Robbins College of Business and Entrepreneurship provides an engaging and rewarding environment for online and on-campus students to develop into tomorrow's business leaders. The college houses four innovative and award-winning departments: applied business studies (marketing, business communications, tourism and hospitality management); economics, finance and accounting; informatics; and management. Learn more about the Robbins College of Business and Entrepreneurship at fhsu.edu/cob.

Kelsey Stremel
I'm intensely curious about everything, which makes it a joy to champion for our humble, innovative, and resilient people at Fort Hays State and their work. My name is Kelsey Stremel, and I'm a senior content strategist at FHSU. I get a rush seeing another's eyes light up as they tell me about their lifelong research, projects, and passions—be it English grammar, agriculture, healthcare, business, or biochemistry. I believe I'm making a difference by helping to amplify those stories and helping create thriving communities here in Western Kansas. I'm raising four children with my husband and several fur babies on our family farm, and I'm passionate about advocating for agriculture, and I'm a volunteer 4-H club leader. I also love to garden, read, and make art or DIY projects.