Blake Bahr is heading into his final year of undergraduate work at Fort Hays State University with a sense of calm. The Olmitz senior already has a job awaiting him when he graduates in May of 2022.
One of five FHSU students interning for the Burns & McDonnell construction and engineering company this past summer, Bahr worked in the company's world headquarters in the Kansas City area.
A technology studies major with a concentration in engineering design, Bahr worked with the computer-aided drafting and design (CAD) programs in the company's power and delivery system.
Burns & McDonnell was impressed with Bahr's work, so much so that the company offered him a full-time position a year before he graduates.
Bahr was proud of Fort Hays State's representation at Burns & McDonnell this summer.
"With students from a lot of big schools such as Ohio State, LSU, K-State there, it was pretty special for us to have five interns there," Bahr said. "Being from a small school, I think you sometimes have a chip on your shoulder and want to show you are just as talented as those from large schools. And I think we did that."
Eric Deneault, associate professor of applied technology, wasn't surprised the company chose that many FHSU students for internships.
"Fort Hays State students are hard-working kids. They're reliable. They show up ready to work, learn, collaborate, and help the company succeed every single day," said Deneault, whose area of emphasis is the CAD program. "They have a good, strong foundation when they get to those companies, so the companies don't have to worry about their technical skills."
Bahr said the FHSU curriculum and experience prepared him for the internship.
"The professors incorporate a lot of different areas in the business path and gear their students toward the future of the industry," he said. "The program provides a really strong foundation that makes graduates very marketable."
That gave him the confidence he needed to perform at a high level at Burns & McDonnell while learning more about his chosen discipline in the construction industry.
"I learned an entirely new software I'd never worked with before," Bahr said, "and learning how to collaborate to get the job done was huge."
Deneault said that Burns & McDonnell contacted him a few years ago to learn about what the curriculum entailed in FHSU's engineering design concentration.
"They were broadening their search from hiring students with certificates in drafting and design to ones with bachelor's degrees," Deneault said.
So he invited company representatives to visit FHSU. It was a win-win for Burns and McDonnell and the students.
"Burns & Mac had the chance to sell their company to our students and to make them more aware of the areas of emphasis they needed drafting and design students to fulfill," he said. "Since then, Burns & Mac has taken from one to five students as interns every year. And I believe every one of them has been offered a full-time job there."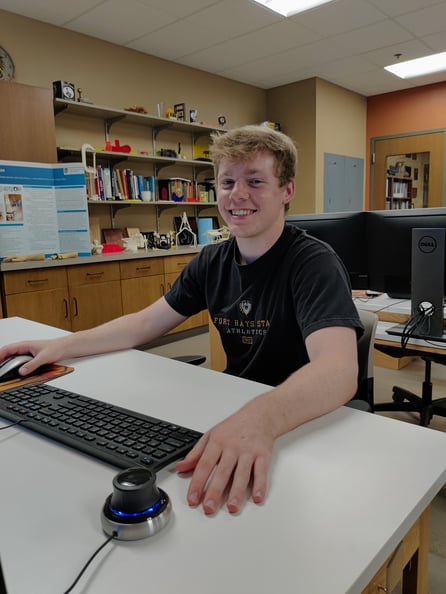 Blake Bahr - Burns and McDonnell intern

Diane Gasper-O'Brien
I am a content specialist at FHSU, and storytelling is part of my DNA. Those close to me say I was born talking and that I haven't stopped since! Writing began at a young age for me, and my entire professional career has been spent putting words down on paper. My passion for telling stories has taken me many places over the years, and some of my most memorable moments have been covering Tiger Nation. I am a Tiger through and through. My entire family – my husband, our two sons, and I – all attended FHSU, and we will soon have four degrees in the family when our youngest completes his MBA. I am honored to spread the great news of Fort Hays State by telling the stories of our Tiger family – students, faculty, staff, alumni, and friends of the university. God bless, and go Tigers!