Need help choosing a university? This is why I chose FHSU.
Choosing a college is arguably one of the most important decisions you'll make in your life. It's a decision that should not be taken lightly and requires a lot of thought and attention. You're about to spend the next four critical years of your life at the college of your choice, you want to ensure it's the perfect fit for you. Luckily, I found my perfect fit at Fort Hays State University. This is why I chose FHSU.
I was a sophomore in high school and received an email from the soccer coach at FHSU. Immediately I dismissed the email because at the time I thought there was no way I was going to spend my college career in Kansas. My mom urged me to at least give it a visit, so I did. It's very important to visit the college of your choice because that will give you a true tell sign if that is home for your next four years. I met the soccer team, met department chairs of the Biology department and even got to spend a night on campus.
I realized how comfortable I felt. I loved all the people I encountered. Everyone was so friendly and willing to help. That was very important to me because I love a sense of community wherever I am. I attended a soccer game and everyone in the stands, community members and students, had so much Tiger pride. The stands were packed and it was cool to see how much the community is involved in the success of FHSU.
I also loved how the teaching faculty and staff were very interionic with their time spent with us. When it came to creating a class schedule, the teachers were flexible and open to any question. I felt like I could ask them anything. I also noticed their interaction with the students on campus and how they knew them by name or would stop to have a conversation with them. I didn't want to be just a number in my class, I wanted to form a relationship with all my teachers.
Although FHSU is in Kansas, the campus and community alone offer numerous activities to help students stay engaged and away from boredom. It seemed like there was something to do every night and the students always got great discounts. The school really wants its students to enjoy their short time at FHSU and it's evident in the activities they hold.
The Tiger pride at FHSU is contagious. You can't help but want to scream, "Roll Tiges!" loud and proud. Everyone was so proud to wear their FHSU gear. Even if Hays is a small town, everyone was proud to say that they attended Fort Hays State University. The atmosphere of sporting events was like no other and everyone was such a big family.
FHSU also offers numerous resources to its students. Whether it be an internship, job or shadowing, the options are limitless. The school wants all of its students to succeed, all we need to do is ask. FHSU offers so many opportunities that will benefit later in life or in a career.
All in all, I am so lucky I've ended up here. I've met people who will be in my life for eternity and have gotten an education that will set me up for the real world. There's no place like Hays, Kansas.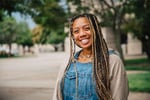 Carmen Fanning
Hello my name is Carmen Fanning. I'm currently a senior in the ultrasound department at FHSU. Although my major is science, I've always enjoyed writing for as long as I can remember. My most enjoyable classes have always been English classes because of how it can be thought provoking and an outlet of emotions and information. I'm not a loud person, so it's nice to put my thoughts into the world through writing. My other hobbies include roller skating, cooking, thrifting and reading. I hope to continue writing post graduation as an enjoyable hobby. I'll be entering the health care field as ultrasound tech and will continue my degree at a hospital of my choosing. Not sure where yet, but I'm excited for the journey!