Study Spots Around Town
Believe it or not, your study spot plays an integral part in the success of your productivity while studying. Lucky for you, the great town of Hays offers numerous spots to get the most efficient studying success. Choose wisely!
Depending on the type of person you are will determine the best studying spot for you.
If you need silence to focus best, the quiet level on the second level of Forsyth Library is calling your name. It's perfect because no noise is tolerated and there's enough space to distance yourself from other students. Be wary of bringing crunchy snacks though, you can hear a pin drop up there!
If you love a nice view of scenery, the glass room in the Memorial Union is up to your speed. The large windows give you access to the beautiful landscaping of the Quad. No matter the season, you are guaranteed to have a peaceful studying session by taking in all the beauty. It's an unspoken rule to be quiet in that room also to aid in better focus.
This next room is seriously a hidden gem on campus! Tomanek Hall has study rooms on each level completely open to students and faculty. It's stocked with beverages and the occasional snacks that cost only a quarter and go towards the science club on campus. The room is rarely occupied and is a great way to isolate yourself for optimum focus.
Nothing compares to the atmosphere of a coffee shop. Breathe Coffee House on Main Street is an excellent place to study. They play calming alternative hits and the overall ambiance is quite serene. If the coming and going is too distracting for you, the coffee shop also offers a lower level with ample seating. Be productive while getting your caffeine fix at this spot!
Starbucks on campus is also a great place to study. Be wary of what time you go, though, any time before 2 p.m. you can expect a crowd. Later in the afternoon and evening, the place is much quieter and is a great meeting ground for group projects.
Further in the union by the massage chairs there is open seating that also serves as a great spot for studying. It's a place to socialize while getting work done. You're bound to see someone you know walk through for a quick chat. It also offers a large window that looks out into the Quad (which is so beautiful to gaze at on a sunny day).
Sometimes you need to get outside and get some fresh air. Thankfully the Quad has benches set up all over and large trees that provide great shade. In the warmer months, this is the place to be! Birds chirping in the background with the sun on your face makes for a great mood booster. This translates well to the productivity of your studying. Be at one with nature and get work done all in one!
The town of Hays has so much to offer for the success of your grades. Be mindful of your surroundings, your study spot can make or break you.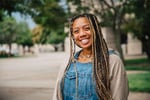 Carmen Fanning
Hello my name is Carmen Fanning. I'm currently a senior in the ultrasound department at FHSU. Although my major is science, I've always enjoyed writing for as long as I can remember. My most enjoyable classes have always been English classes because of how it can be thought provoking and an outlet of emotions and information. I'm not a loud person, so it's nice to put my thoughts into the world through writing. My other hobbies include roller skating, cooking, thrifting and reading. I hope to continue writing post graduation as an enjoyable hobby. I'll be entering the health care field as ultrasound tech and will continue my degree at a hospital of my choosing. Not sure where yet, but I'm excited for the journey!