Preparing for the School Year during Summer Break
Summer break couldn't come any faster! This break is well deserved after all of the emotional and physical stress of the school year. Take this time to fully breathe and relax before the madness of the next school year begins.
There are things you can do now to prepare for the upcoming school year. Whether this'll be your first rodeo or you're a returning student, there are numerous ways you can do to make the transition smoother and easier. Follows these tips to prepare
There's nothing wrong with enjoying your summer to the fullest. You deserve this time! Some of that time should be proactive in getting ready for the upcoming semester. Once late July/August hits, it's time to start mentally and preparing yourself by organizing. This looks different for everyone. Mark upcoming dates of the school year in a planner, figure out your schedule, make sure you know where classes are, being fully prepared with all the necessary books for classes, etc. Doing these things early on will save a lot of stress the first week of school.
Continue to keep your mind engaged during the summer. This will make the transition back into school much easier. You don't have to study your chemistry textbook, but reading a book or two during the summer aids in brain power. Keeping up with the news and current events is another way to keep your brain engaged and active. This is also a good way to help aid in class discussions, research papers and talk about issues important to you.
Now is a great time to apply for scholarships and financial aid. There are numerous opportunities out there for college students. Now that you have more free time, you can dedicate that time to saving yourself some money. You won't regret it! Don't forget to apply for FASFA also.
Summer is for making memories, but make sure you dictate what should and shouldn't be seen on social media. Reputation is everything and first impressions are very important. Universities and future employers will be looking at the things you post so make sure you're putting your best self out there.
Continue to connect with other students who you might share classes with and shared interests. Building connections will be integral in your future career success. College has great resources for you to use, make sure to take advantage of this opportunity.
Don't let this time go to waste! You can relax this summer and also partake in the necessary steps to best prepare for the upcoming school year. Make good decisions, stay safe and I'll see you this upcoming fall!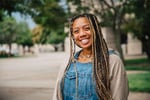 Carmen Fanning
Hello my name is Carmen Fanning. I'm currently a senior in the ultrasound department at FHSU. Although my major is science, I've always enjoyed writing for as long as I can remember. My most enjoyable classes have always been English classes because of how it can be thought provoking and an outlet of emotions and information. I'm not a loud person, so it's nice to put my thoughts into the world through writing. My other hobbies include roller skating, cooking, thrifting and reading. I hope to continue writing post graduation as an enjoyable hobby. I'll be entering the health care field as ultrasound tech and will continue my degree at a hospital of my choosing. Not sure where yet, but I'm excited for the journey!