Why getting involved as a student is important
Being involved on campus comes with major benefits. Not only is it a great opportunity to meet people, but also gain connections for your future. There are unlimited options that college offers, but you must make the first step. Participation in college sets the tone for a lifetime of learning, communicating, building connections and more.
Communication and Leadership
Getting involved is a great chance to develop and build good communication and leadership skills. This is an essential skill that you'll need all throughout life. This a great way to get hands on experience and practice in a low stress environment. It also aids in leadership skills. Leadership is essential and will help you stand out from the rest in the job searching process.
Joining clubs helps with time management. Discipline is very important in college. Between balancing school, a social life, relationships and extracurricular, discipline is key. Future bosses like to know that whoever they're hiring can manage all the demands a job entails.
collaboration
Another great benefit of getting involved is collaboration. In life, you will have to work alongside other people. Clubs and organizations help students engage in a common cause and work together to accomplish it. These clubs are full of people from all different walks of life, this is a great opportunity to learn how to work alongside different personalities. This is another great chance to display leadership amongst students. Students learn how to work towards a shared goal, work through interpersonal disagreements and display responsibility.
networking
Life is all about who you know. Extracurricular are the perfect place to brand yourself for future career goals. It's also a great way to meet people in general. You're guaranteed to meet the best of friends in college. This is your chance to break out of your comfort zone and use the resources given to you.
This is a great way to get connected to the university. The college experience will be a lot more enjoyable if you dig into the school pride and love where you're going. Who knows, you may end up liking your school a lot more than before you joined.
community
Getting involved breeds community. It can be hard to leave your family, friends and loved ones, but a community will help make the transition easier. College is supposed to be your home away from home and the right community surrounding you will make it even more enjoyable.
Enhance your resume
Hello resume builder!? This is a great stepping stone for your future. Future bosses and employers like to see someone who is well diverse and well balanced. This is the beginning to your future success.
I hope you take advantage of all the opportunities college presents. Your talents will be beneficial wherever you decide to go and the benefits are worth it. The life skills you'll learn will be a stepping stone to your future endeavors. Now that you know the benefits, you'll get just as much out of it as you put in!
Getting involved at FHSU
At Fort Hays State University we offer a variety of ways students, on campus and online, can get involved with their fellow students and the community. A great place to start is by checking out Tigerlink.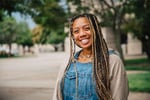 Carmen Fanning
Hello my name is Carmen Fanning. I'm currently a senior in the ultrasound department at FHSU. Although my major is science, I've always enjoyed writing for as long as I can remember. My most enjoyable classes have always been English classes because of how it can be thought provoking and an outlet of emotions and information. I'm not a loud person, so it's nice to put my thoughts into the world through writing. My other hobbies include roller skating, cooking, thrifting and reading. I hope to continue writing post graduation as an enjoyable hobby. I'll be entering the health care field as ultrasound tech and will continue my degree at a hospital of my choosing. Not sure where yet, but I'm excited for the journey!