A veteran pole vaulter, Fort Hays State University's Ryan Stanley is accustomed to the adrenaline rush of hanging upside down from way up in the air while holding onto nothing but a fiberglass pole.
So it's no surprise that the Fort Hays State University student-athlete took the roller-coaster pandemic year in stride. But even the normally calm Stanley gets excited while talking about his success stories of 2021 that culminated in being as the MIAA Men's Spring Student-Athlete of the Year.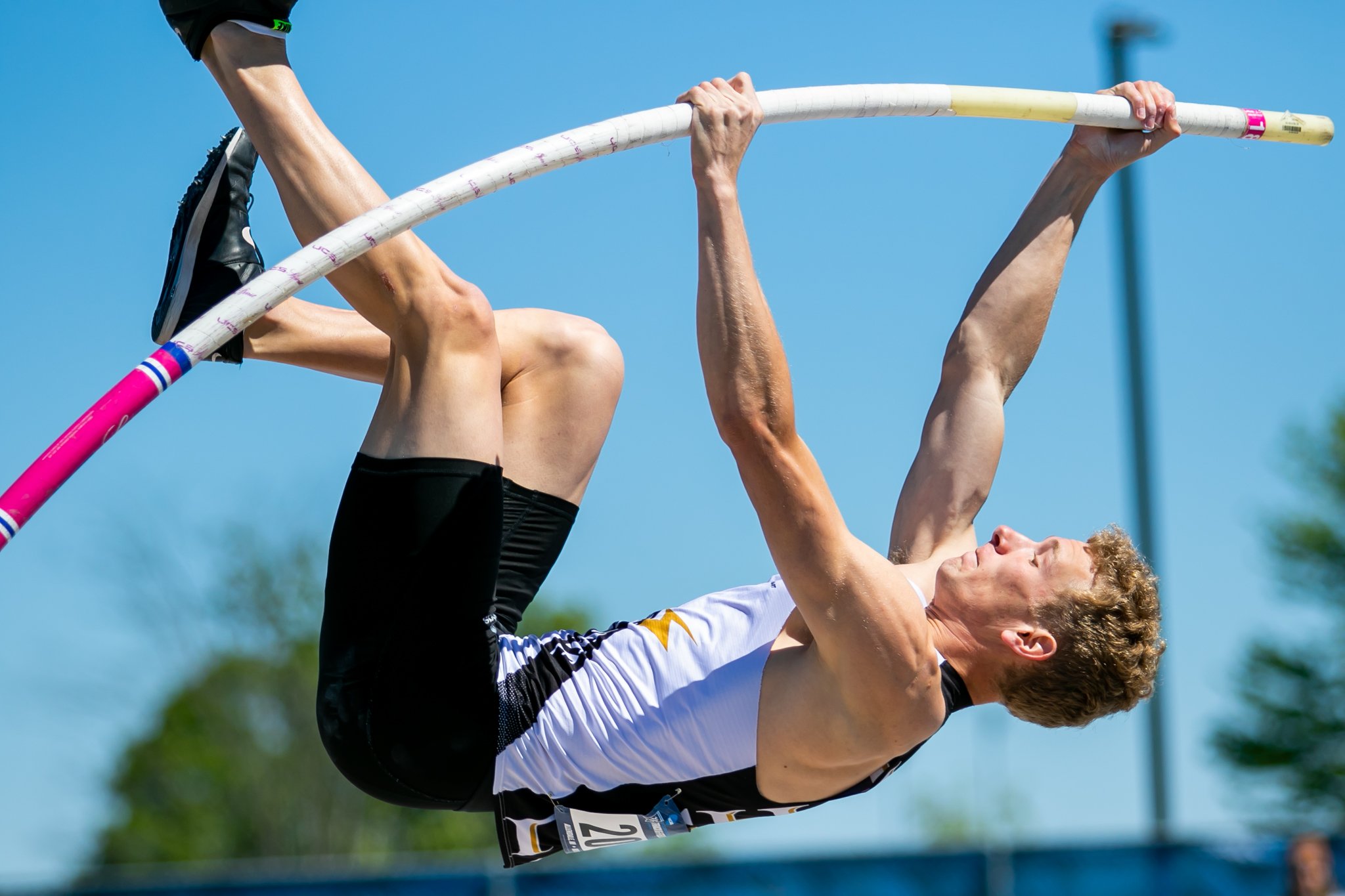 Ryan Stanley - MIAA Men's Spring Student-Athlete of the Year
"It's such a change from a year ago when our outdoor season was called off because of the pandemic," he said. "It's hard to put into words the feelings about all that has happened this year."
This past March, Stanley claimed All-American honors in the pole vault at the NCAA Division II National Indoor Track and Field Championships in March and set the school indoor mark of 16 feet, 11.5 inches. When he returned from nationals, Stanley learned he had been selected for an ambassador position for FHSU's Robbins College of Business and Entrepreneurship. A week later, he was elected student body vice-president for the 2021-22 school year.
As the spring progressed, he thought the only thing that could make life much better would be to qualify for the national outdoor meet – and possibly hit his goal of clearing 17 feet. He did both, and then some.
Stanley qualified for nationals in the final regular-season meet with an outdoor school-record height of 17-2.25. He eclipsed that mark at the season finale, clearing 17 feet-2.75 to win the national championship. That helped earn him the MIAA Student-Athlete-of-the-Year award.
"It's been quite a ride for sure, and it's hard to believe how it all started last year," said Stanley, a junior from Bennington – a small town in north central Kansas. "We have sure earned a lot from living in a pandemic."
Stanley, like all students, had to adjust to a different life on campus – taking most of his classes online instead of in person, following COVID-19 protocols, and practicing at precisely scheduled times in the Indoor Training Facility. Because only one athletic team was allowed in the facility at one time during the pandemic, Stanley awoke early every morning for his 6 to 8 a.m. practice times.
"We learned to be flexible and adaptable with whatever the situation was," he said. "I can't control what happens around me, but I can choose how I react to it."
That's an attitude that helped Stanley earn All-American honors twice this spring while maintaining a near-perfect 3.97 GPA in the classroom. He also has won several academic honors at FHSU while staying busy with numerous activities on campus.
Stanley stressed that he relies on life lessons he learned long ago while growing up the son of former college athletes and the middle sibling in a family of five.
Everything was a competition with his two older brothers, who he followed to Fort Hays State to major in business and try his luck at competing in the pole vault at the next level.
A standout high school vaulter, Stanley went undefeated and won a state title his senior year at Bennington High School, where his career high was 14-6. He wasn't sure he had what it took to be a successful vaulter in college ­– until he met FHSU's pole vaulting coach.
Randy Stanley – no relation to Ryan – won a conference championship for the Tigers in the pole vault in the late 1970s and held the school record at one time. He returned to his alma mater to coach his specialty about 13 years ago.
Ryan Stanley, a three-sport athlete in high school, attended a pole vault camp at FHSU following his senior year in high school, and Coach Stanley was impressed.
"I watched him and thought, 'Oh, my goodness, this guy has some talent,' " Coach Stanley said. "He's got really good speed and is so aggressive and has so much potential. I thought that once he got to college and could focus on one sport, who knows how much he could improve?"
That improvement came faster than either of the Stanleys imagined.
By the end of his freshman year at FHSU, Stanley the athlete had improved his height by more than 2 feet. His vault of 16-11.5 at the national indoor earned him fourth-place honors and his first All-American trophy.
His original pole vaulting goal coming into college was 15-6.
"My goals have gone up quite a bit," he said with a smile.
Stanley will earn two bachelor's degrees in 2022 – in business administration and management with a concentration in human resources (HR) and in Spanish – then begin work on a master's in professional studies in HR management.
But there are plenty more bars to clear before then. This summer, Stanley is working at a human resource internship with Select Quote, an insurance company out of Overland Park. Next fall, he will begin another busy year juggling his academics, athletics, and responsibilities as student body VP and business college ambassador.
It may sound like another roller coaster ride to some. But, Stanley insists, he is looking forward to this one – and he couldn't think of anywhere else to take the ride other than Fort Hays State.
"There are so many opportunities that Fort Hays offers that puts people in places to be successful," he said. "Our professors work with us and are communicative while we are attending track meets, and Coach Stanley is willing to move practices around to accommodate our academic schedules. I am so humbled and blessed to have so many people by my side at Fort Hays State. It's just special."

Diane Gasper-O'Brien
I am a content specialist at FHSU, and storytelling is part of my DNA. Those close to me say I was born talking and that I haven't stopped since! Writing began at a young age for me, and my entire professional career has been spent putting words down on paper. My passion for telling stories has taken me many places over the years, and some of my most memorable moments have been covering Tiger Nation. I am a Tiger through and through. My entire family – my husband, our two sons, and I – all attended FHSU, and we will soon have four degrees in the family when our youngest completes his MBA. I am honored to spread the great news of Fort Hays State by telling the stories of our Tiger family – students, faculty, staff, alumni, and friends of the university. God bless, and go Tigers!