It was a "Jungle Out There" at the Ellis County Fair. Fort Hays State University student Mattie Rossi worked alongside extension agents, fair board members, and 4-H families to deliver a successful and educational 2021 4-H fair experience.
Mattie, a native of Yampa, Colo., is completing an internship with the Cottonwood District Extension Agent in Ellis County.
"I was looking for an internship to give me career experience, something to build my resume," said Mattie. "When this opened up with the Cottonwood Extension District-Ellis County, it seemed like a good pathway to learn and experience many different industry aspects. I knew it was going to be a good fit and it has worked out well."
This summer, Mattie had the opportunity to conduct home horticulture visits with Lauren Fick, a horticulture agent, and learned about invasive species of plants and home garden practices. She planted milo test plots with Stacy Campbell, agriculture agent. Mattie wrote a press release with Bernie Unruh, a family and community wellness agent, to promote the story walk at the local farmers' market. And she worked with Susan Schlichting, 4-H youth development agent, to help host youth camps for a wide variety of projects — from rockets to photography and entomology.
"I really enjoyed the relationships I've made with the agents here and watching what they build throughout the community," said Mattie. "The way they communicate with the people and community is special. People can come here because they know them and seek their advice and professionalism. It's special to be part of that interaction and see how they help build stronger communities."
Mattie is no stranger to 4-H activities, county fairs, and the work ethic the agriculture industry requires. She grew up in a rural community participating in 4-H and FFA and showing pigs. But this is the first time that she was able to experience the hard work and problem-solving that it requires to work in extension services.
"It was interesting to see a fair week from a different point of view," said Mattie. "I've never worked in youth development, and it was new and fun to experience. It was a challenge to learn how to communicate with the audience and think about problems through the lens of education. It was enjoyable to be around youth that share the same passions for agriculture, community development and leadership that I do."
This summer, Mattie has focused on the relationship-building aspect of agricultural extension work and problem-solving challenges across various extension programs. Skills that will prove valuable no matter where she goes. Mattie will work towards completing an MBA and continue representing the Tigers in the heptathlon next year as she prepares herself for a career in agricultural finance. She's always planned on going into agricultural business because of her passion for rural communities and lifestyles and the career stability of the agriculture industry.
"I came to FHSU because I wanted to go somewhere that I could run and complete a degree in agricultural business that I could afford. FHSU was far enough from home that I couldn't give up and go home and I would be encouraged to get out and make new friends," said Mattie. "I've enjoyed my time here and made friends in athletics and the agriculture department. I've loved all my professors and friends, and I'm confident I'll be able to implement in my career and life post-schooling all that I've learned. It was financially a great decision."
Mattie completed her Bachelor of Science in agricultural business in three years this spring, making the most of her concurrent credits and working closely with her advisor, Mr. Jeremy Ryan. She's also been a stand-out on the FHSU Track and field team competing in the heptathlon. "Ryan has been a professor and advisor. He's supportive and when I explained what I wanted in my college experience, he knew exactly what to recommend helping me get there."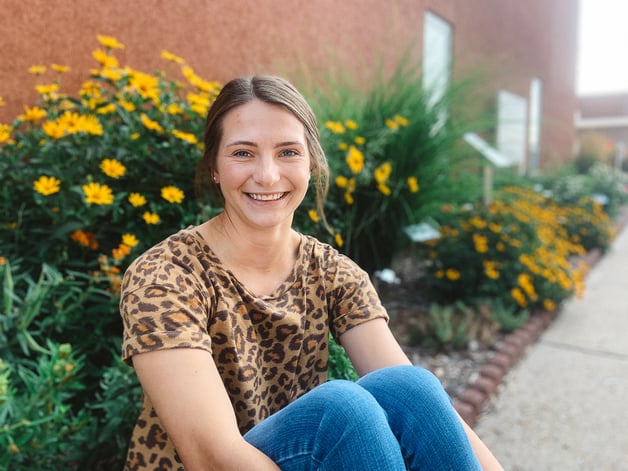 Mattie Rossi - Intern for Cottonwood District Extension Agent in Ellis County
About Fort Hays State University
Fort Hays State University serves Kansas and the world through an innovative community of teacher-scholars and professionals providing accessible higher education to all who seek it. Our more than 15,000 students are found in every county in Kansas and around the world. FHSU excels at developing engaged global citizen-leaders through innovative online and on-campus programs designed to push the boundaries of what is known and drive solutions that serve the public good.
The FHSU Department of Agriculture offers Bachelor's degree programs in Agriculture with emphases in Animal Science, Agricultural Communications, Agronomy, Agronomy Business, Agricultural Leadership, Agricultural Education, and Agricultural Business. Many degree options are available as fully online programs. A new online or on-campus MBA with a concentration in Agriculture will be launching soon.

Kelsey Stremel
I'm intensely curious about everything, which makes it a joy to champion for our humble, innovative, and resilient people at Fort Hays State and their work. My name is Kelsey Stremel, and I'm a senior content strategist at FHSU. I get a rush seeing another's eyes light up as they tell me about their lifelong research, projects, and passions—be it English grammar, agriculture, healthcare, business, or biochemistry. I believe I'm making a difference by helping to amplify those stories and helping create thriving communities here in Western Kansas. I'm raising four children with my husband and several fur babies on our family farm, and I'm passionate about advocating for agriculture, and I'm a volunteer 4-H club leader. I also love to garden, read, and make art or DIY projects.