By the time he finished eighth grade, Jeremy Breit knew he wanted to be a teacher. By his sophomore year of high school, he decided to pursue this goal at Fort Hays State University.
Breit, who grew up in Hoisington, found FHSU to be the perfect fit for him. It was the right size school, the ideal distance from home, with highly recommended programs in his areas of interest.
"I visited Fort Hays State and fell in love with it," Breit said. "It really was a home-away-from-home."
An elementary education major, Breit recently completed his student teaching at La Crosse, where he taught third grade. This year, upon completion of his degree, Breit will begin his professional career as the new third-grade teacher at La Crosse Elementary, successfully fulfilling his childhood goal.
Katelyn Schmidt, a fourth-grade teacher at La Crosse Elementary and Breit's cooperating teacher, praised Breit for his work this year.
"Jeremy is a real go-getter, always asking questions in order to learn more. The way he builds relationships with his students, he really has the heart of a teacher," Schmidt said. "We are lucky to have him here at La Crosse."
Even before acquiring his degree and beginning his teaching career, Breit was recognized as an outstanding student with great potential.
He was selected as a Kansas Teacher of Promise, a recognition given to only two students per year from each Kansas college and university that offers teacher education programs.
The Kansas Teacher of Promise program is sponsored by the Kansas State Department of Education. Each year, those chosen for the honor are invited to participate in a professional learning and recognition opportunity. Teachers of Promise attend a workshop presented by the current Kansas Teacher-of-the-Year team, where they get the chance to learn from some of the best educators in the state.
Even with all the awards – and praise that comes with those recognitions – Breit remains humble when discussing his achievements.
"I am honored to receive recognition from the FHSU faculty," he said. "I was in class with a lot of really great people, and I was fortunate enough to learn from them and some excellent professors at Fort Hays State. I hope I can live up to and fulfill the expectations of this award."
While looking forward to his new position, Breit also wants to maintain the close connections he has made during his time at Fort Hays State. During his time in Hays, Breit worked for the FHSU Alumni Association and was heavily involved in homecoming activities.
"Homecoming was always my favorite time of the year," Breit said. "I always enjoyed meeting with alumni during those events, and I'm interested in being involved in the festivities now as an alumnus."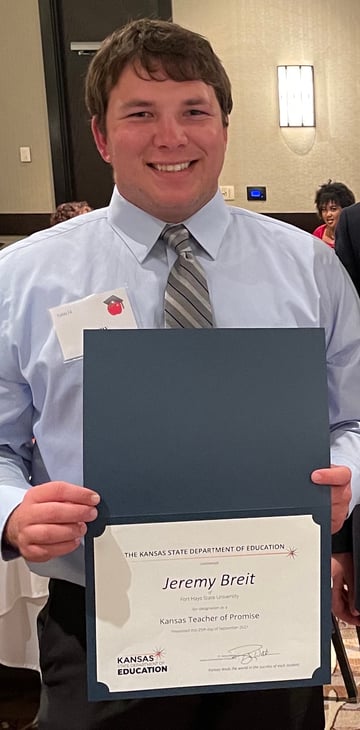 Boyce Durr
It has been nearly 25 years since I entered my first class as a High School English teacher in the wonderful little town of Prairie Home, Missouri. I loved teaching high school and thought I might do this for my entire career. However, plans change, life happens, and some opportunities have to be taken. My name is Boyce D. Durr. I have both a B.A. in English and an M.A.E. in English education from Truman State University in Missouri and a Ph.D. in Teaching and Learning from New York University. Since teaching high school, I have worked at NYU, Queens College, Virginia Polytechnic University, Kaplan University, and Radford University before transitioning back to the Midwest, where I now work as a writer and marketing editor at Fort Hays State University. I spent much of my career helping students develop their writing. Now I look forward to putting these skills to work at FHSU, sharing some of the fantastic stories found here at Tiger Nation.