Transferring to a different college can be scary for some students. Guadalupe Hernandez found moving away from home to continue her education at Fort Hays State University an easy transition for several reasons, including a welcoming committee on the FHSU Tiger Marching Band.
Hernandez is in her third year Fort Hays State, which celebrated National Transfer Student Week last week.
The FHSU Transfer & Military Center sent an email to all current transfer students, asking them to nominate someone who has made an impact on them at FHSU. That could be a long list for Hernandez, who says that FHSU made transferring a smooth process in many ways.
Nonetheless, she admits she was a little anxious back in the spring of 2019 when she was entering her final semester at her local community college.
A music education major, Hernandez was firmly entrenched in everything music at Garden City Community College. Her first experience with college life was relatively easy, despite being a first-generation college student, because many of her high school classmates attended GCCC.
Leaving her hometown after graduating from GCCC, and the idea of stepping onto a new campus, was something entirely different.
"I was a little nervous about transferring, because it's kind of like starting all over," Hernandez said. "Freshmen are able to make friends in the dorm. I was living in an apartment when I moved to Hays. I wasn't so sure of a lot of things."
It didn't take her long to feel comfortable in her new surroundings.
Hernandez auditioned for – and received – a music scholarship to FHSU. A member of the GCCC marching band, she decided to continue that activity at Fort Hays State.
FHSU's marching band members come to campus a couple of weeks before the start of the fall semester to practice for the upcoming season. There, Hernandez found instant companionship.
"With the band, I met people right away, ones I could go to if I had questions about something," she said. "We're all family, and we have fun together. Band is my second home."
Hernandez is grateful she chose FHSU, and she credits two Fort Hays State alumni for convincing her to check out their alma mater.
Hernandez learned under Makenzi Johnson, assistant director of bands at Garden City High School at the time. She then played under Johnson's husband, CJ, director of bands at GCCC. Both have bachelor's and master's degrees from FHSU.
"I was considering another college after GCCC, and the Johnsons talked me into coming to FHSU," Hernandez said. "They told me about the great environment and so many opportunities for me to continue in music."
Indeed. In addition to playing a saxophone with the marching band, Hernandez also plays sax in the wind ensemble and in the jazz band.
She said playing with all those groups has increased her confidence level, and this year she successfully tried out for a drum major position with the marching band.
"Besides being in the band where I was familiar with her, Guadalupe came on the radar because she excelled in the conducting classes," said Dr. Peter Lillpopp, director of the Tigers' marching band. "She did very well during that experience. So it wasn't just me who thought she had what it takes to be a good drum major. It was her peers, too."
Hernandez plans to student teach next fall, then search for teaching jobs in music education.
Lillpopp thinks she has a bright future to look forward to.
"She is going to be very employable," he said. "She is bilingual and an experienced leader. And with all her music experience, she is going to be a very good teacher."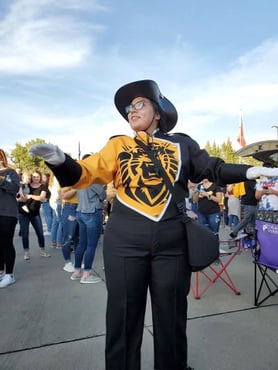 Diane Gasper-O'Brien
I am a content specialist at FHSU, and storytelling is part of my DNA. Those close to me say I was born talking and that I haven't stopped since! Writing began at a young age for me, and my entire professional career has been spent putting words down on paper. My passion for telling stories has taken me many places over the years, and some of my most memorable moments have been covering Tiger Nation. I am a Tiger through and through. My entire family – my husband, our two sons, and I – all attended FHSU, and we will soon have four degrees in the family when our youngest completes his MBA. I am honored to spread the great news of Fort Hays State by telling the stories of our Tiger family – students, faculty, staff, alumni, and friends of the university. God bless, and go Tigers!