Kansas is a global leader in agriculture, with the state exporting over $3.8 billion in agricultural products in 2019. Wheat, grain sorghum, beef production, and a growing dairy sector help fuel jobs for more than 254,000 people and generate safe food products and fibers, construction materials, and biobased and bioenergy products.
FHSU agriculture and business majors, such as current student Megan Cranwell, find rewarding and meaningful careers in many agricultural industry segments, whether in production agriculture, technology, marketing, law, or finance. Cranwell is a High Plains Farm Credit Student Board member and an intern this summer with High Plains Farm Credit, a member-owned financial cooperative and regional member of the national Farm Credit System.
"Agriculture is so important and intertwined in rural lifestyles and communities," said Cranwell. "I can't think of another industry with such a unifying passion as agriculture, and even as a little kid, I knew I wanted to be a part of that. It's important to have meaningful work that serves a greater good."
During her internship this summer, Cranwell, a senior majoring in accounting with a minor in agriculture, has had the opportunity to see all facets of the agricultural business sector and apply her accounting, business law, and macro and microeconomics studies. She's been able to shadow and support staff in accounting, lending, insurance, and perform farm visits, getting to know the customer-stockholders.
"My main summer project was working in an audit management software," Cranwell said. "HPFC goes through several different audits every year—both internal and external—so I was helping make those become more efficient."
High Plains Farm Credit serves 3,300 farmers, ranchers, and agribusinesses in central Kansas with nearly $1.5 billion of loan volume serviced. Cranwell has also gained experience and built her network in Kansas agriculture through her service on the HPFC Student Board.
The HPFC Student Board provides opportunities to Fort Hays State University students to participate in the functions of the HPFC Board of Directors and develop the decision-making skills necessary for a career in agriculture lending. The students also complete an annual board research project. This year's student board was tasked with researching drone applications in agriculture.
While drone technology is relatively young, it holds tremendous potential for application in agriculture and will undoubtedly be an influencing factor in future ag finance decisions. Cranwell authored an article published in the HPFC newsletter, and you can read it below!
"I didn't know this was going to be my dream job," said Cranwell. "But I love it. I remember walking in on the first day and reminding myself that it's only temporary if it doesn't go well. Now I don't want to leave."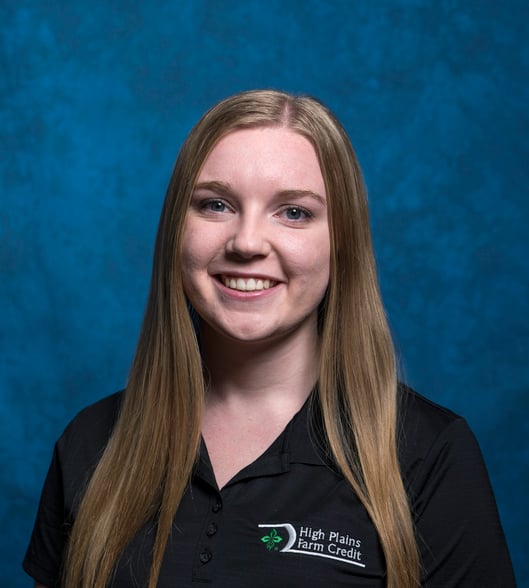 Article below written by Megan Cranwell, student majoring in Accounting with a minor in Agriculture and High Plains Farm Credit Student Board member

Drones in Agriculture
The High Plains Farm Credit Student Board is a collaborative effort between High Plains Farm Credit and Fort Hays State University. Since 2019, FHSU Agricultural Business and Finance majors have the opportunity to apply to become one of eight members of the HPFC Student Board. Board members attend eight monthly meetings throughout the academic year at the Hays branch to learn about High Plains Farm Credit and the fundamental elements of agricultural lending. Student Board members are truly provided an opportunity that is second to none, with the opportunity to develop leadership skills, build a professional network, and learn from industry leaders.
Each year the Student Board is tasked with a research project. This year, we were assigned to research drone applications in agriculture. Drone technology is relatively young, and has many exciting current and potential uses in the agriculture industry. In our research, we interviewed several local drone operators, explored new applications for existing technology, and visited the drone lab at Fort Hays State University. We also researched the regulations involving drone use in agriculture, which continually appeared to be the largest barrier to local usage.
Overall, the board had several key takeaways from the research. First, while the certification process is not particularly difficult in nature, it is certainly a time consuming and lengthy process. Since agricultural operators are considered by the Federal Aviation Administration, or FAA, to be using the drone for commercial purposes, there are considerably higher standards for certification than that for personal use. In all, the process to become a certified pilot could take over two months to complete. However, when a spray drone is involved, the process extends to six to twelve months and may require an attorney to complete. While these processes may seem daunting, the necessary materials are widely available in terms of online content and local resources.
When many operators think of drones, the first concern is the cost of the equipment. Fortunately, a highly competitive industry has provided high quality hardware and software at relatively reasonable prices. Drone prices vary greatly depending on specifications. In the scope of our research, the drones ranged from $700 to $1,600 with an additional expense of the near infrared sensors costing $3,000 to $5,000. Additionally, there are several technologies available on a subscription basis that collect and store field scans and maps in a cloud, automatically recording and storing information from a flight. While these costs may seem steep, it is important to evaluate what you would gain from such an investment of time and capital. A simple field scan with a near infrared sensor can glean data like field dead zones, elevation and drainage patterns, soil nutrient content, and plant biomass. Using the NDVI, or Normalized Difference Vegetation Index, operators can interpret the field maps and make necessary adjustments.
At the FHSU drone lab, we were fortunate enough to visit with Dr. William Stark, who provided a wealth of knowledge on the topic. In his opinion, the biggest limiting factor on agricultural drone technology is not the cost of operating the drone or software, but rather the training and application of the data being collected. A single field scan offers a considerable amount of data, and when interpreted by you and your agronomist, can yield exponentially more educated decisions. Additionally, cloud technologies that store field scans year over year can provide an insight into long term trends, allowing for more sustainable and efficient farming practices.
Overall, the agricultural drone market is expected to grow from a $1.2 billion industry in 2020 to $5.7 billion in 2025. With that, it is important to realize that this technology is not only here to stay, but will likely comprise a growing part of farming operations in the near future.
For more information about the High Plains Farm Credit Student Board or to view the entire presentation on drones, visit https://highplainsfarmcredit.com/about/student-board-of-directors.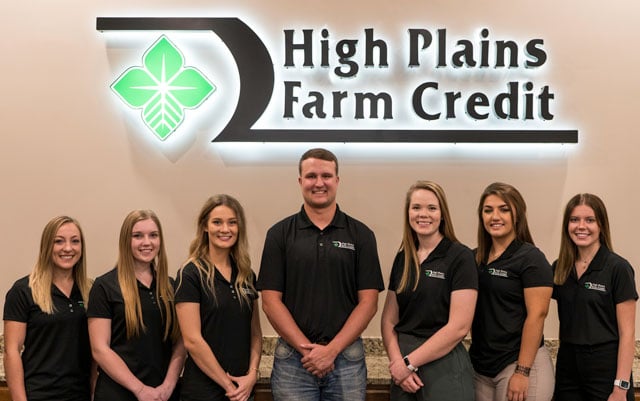 Megan Cranwell and other High Plains Farm Credit Student Board Members
About Fort Hays State University
Fort Hays State University serves Kansas and the world through an innovative community of teacher-scholars and professionals providing accessible higher education to all who seek it. Our more than 15,000 students are found in every county in Kansas and around the world. FHSU excels at developing engaged global citizen-leaders through innovative online and on-campus programs designed to push the boundaries of what is known and drive solutions that serve the public good.
The FHSU Department of Agriculture offers online degrees in agricultural business and agricultural leadership and on-campus undergraduate degrees in agronomy, animal science (including pre-veterinary medicine), general agriculture, agricultural education, agronomy business, agricultural communication, and agricultural leadership in addition to a minor or certificate in agriculture.

Kelsey Stremel
I'm intensely curious about everything, which makes it a joy to champion for our humble, innovative, and resilient people at Fort Hays State and their work. My name is Kelsey Stremel, and I'm a senior content strategist at FHSU. I get a rush seeing another's eyes light up as they tell me about their lifelong research, projects, and passions—be it English grammar, agriculture, healthcare, business, or biochemistry. I believe I'm making a difference by helping to amplify those stories and helping create thriving communities here in Western Kansas. I'm raising four children with my husband and several fur babies on our family farm, and I'm passionate about advocating for agriculture, and I'm a volunteer 4-H club leader. I also love to garden, read, and make art or DIY projects.